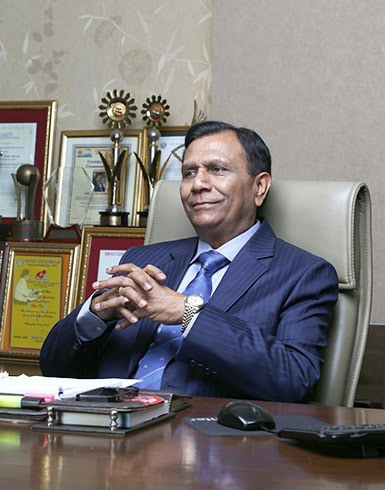 From the desk of CMD
We have a dream, to create a world with limitless possibilities
It gives me great pleasure to welcome all the visitors to Kamdhenu Group website. I am confident that the group information contained through the pages of this website will prove extremely useful and beneficial for all concerned.
Kamdhenu Group is one of the leading building materials company in India. The company is engaged in manufacturing, marketing, branding and distribution of a vast range of quality building materials including steel TMT bars, structural steel, colour coated sheets etc. Kamdhenu Group's flagship product 'Kamdhenu TMT Bars' is synonymous with good quality and ranks as the most preferred brand in the field of construction in India with a brand sales turnover of over Rs 6,000 crore.
Stemming out of Kamdhenu Limited, 'Kamdhenu Paints' is the paint vertical of this thriving business conglomerate. Launched in the year 2008, this ambitious project of 'Kamdhenu Paints' rests on solid grounds of infrastructural and supply chain management. In order to bring more transparency and dynamism to the operations of the company, Kamdhenu Limited ventured into Franchisee Business Model.
This step has been taken to involve more and more regional steel units spread in the vast stretch of the country by encouraging their participation and support in technology transfer / upgradation of their facilities for better productivity levels. Interested parties will find all the important information here to tie-up with us in our innovative Franchisee Business Model.
The innovative Stockyard Model is also a refined form of the same concept, which is another step forward for enabling de-centralization of company's operations towards movement of stocks.
Kamdhenu also forayed into decorative paints business in 2008. The complete information about Kamdhenu Paints is available on separate website www.kamdhenupaints.com
Kamdhenu being TMT expert, in 2013, launched KAMDHENU SS 10000 TMT Bar which is a premium product with double rib, double strength and double safety suitable for highly seismic zone.
The product profiles are also elaborated at length for better insight on the technical details and highlight the Quality benchmarking process undertaken by Kamdhenu Group to meet the International Standards.
The site also reflects the steady growth of our financial standings over a period of time and also highlights the outstanding achievements that have seen us grow to the level of operations that we are today. The positive market indicators including the Brand Awareness, Market share and Profit Margins of the company are also illustrated with graphical visuals for easy comprehension.
In a larger sense, this site is a true reflection of what Kamdhenu Group looks from the inside, and that is exactly what we want to show to every visitor coming to this website.
With warm regards,
Satish Kumar Agarwal

Chairman & Managing Director